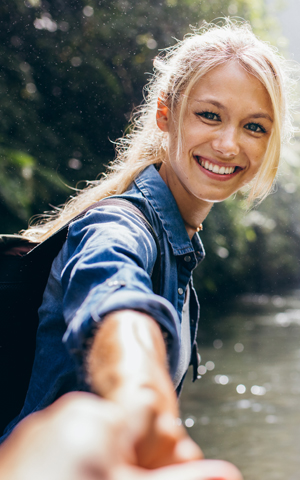 Dr. Foy has done extensive training with the world-renowned Dr. Dick Barnes Group and has become experienced doing full-mouth rehabilitation. We believe that everyone should feel confident about their smile, and Dr. Foy can improve your smile in a variety of ways. We offer teeth whitening, cosmetic bonding, and a variety of other cosmetic services to help you achieve the smile of your dreams.
Teeth Whitening
Foy Aesthetic and Family Dentistry uses Opalescence teeth-whitening products to help you get a picture-perfect smile. Opalescence is distributed by licensed dental professionals and administered by the patient at home, which makes teeth whitening simple and easy! The whitening agent penetrates under the tooth enamel and reacts with discolored molecules, breaking the bonds of the discolored enamel and whitening the tooth. The gel comes in a variety of strengths depending on the desired results.
Cosmetic Bonding
For teeth that are chipped or cracked, Dr. Foy employs a bonding material called composite resin for a natural, smooth finish. The resin is matched to the color of your teeth and is bonded directly to your tooth enamel. The tooth is first prepared for the resin, then the resin is built up in layers to fill in chips. After the resin is applied to the tooth and cured with a special light, it is shaped with to perfectly match your smile.
Porcelain Veneers
Veneers can be used for a variety of tooth improvements. They can brighten the color of your teeth, change the shape of teeth that have been slightly chipped, or fill in gaps between teeth. A veneer is a thin layer of porcelain that is bonded directly to your teeth. In order to place the veneer, a thin layer of enamel is shaved off. After the porcelain has been bonded, veneers look just like regular teeth–or if needed, even better!
Crowns, Bridges, and Implants
For missing teeth, we offer a variety of solutions to help fill the gaps in your smile. Crowns go over a chipped or damaged tooth. Bridgework is a good option for teeth that are completely missing, especially multiple teeth in a row.  Another option for replacing teeth involves placing dental implants. Dental implants consist of a rod fused with the jawbone, a crown to replace the missing tooth, and an abutment to connect the two. Visit our office to find out which solution is right for you!