Dr. Sterling Foy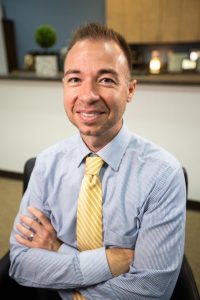 Dr. Sterling Foy was born and raised in Ponca City, Oklahoma and graduated from Ponca City High School in 2000. His passion for dentistry began at an early age while taking the Dentistry merit badge as a Boy Scout. He also received constant exposure to the field from his best friend's mother who happened to be a dental hygienist!
Upon graduating from high school, Dr. Foy attended Brigham Young University and earned his undergraduate B.S. degree in Physiology and Developmental Biology. Towards the beginning of his undergraduate studies, Dr. Foy had the opportunity of living in the Philippines from 2001-2003 where he developed a profound love for the Filipino people and received additional motivation to pursue a career in dentistry. While attending BYU, he met and married his sweetheart, Brittney. They returned to Oklahoma together for Dr. Foy to attend the University of Oklahoma College of Dentistry where he earned his D.D.S.
He practiced dentistry in the Oklahoma City/Norman metro area for several years in group practice before relocating to Omaha to be closer to family. Dr. Foy is a member of the American Dental Association, Nebraska Dental Association, Omaha District Dental Society, and Academy of General Dentistry. He has received advanced training in implant therapies and is a recognized Invisalign Preferred Provider. Dr. Foy has also received extensive training in full mouth rehabilitation with the highly regarded and world-renowned Dr. Dick Barnes Group and Nash institute.
Dr. Foy and his wife Brittney have been married for twelve years and have five children: Kade – 10, Emery – 9, Halley – 6, Riggs- 4 and Jayse- 1.
In his free time, Dr. Foy enjoys spending time with his family, coaching his children in sports, camping, fishing, and playing tennis and basketball. College sports and the Oklahoma City Thunder are 'mild' obsessions of his. He continues to be actively engaged with the Boy Scouts of America where he has volunteered as an Assistant Scoutmaster to a local scouting unit in the community for the last eight years.
Dr. Foy loves practicing dentistry and appreciates the special opportunity it gives him to associate with the great people of this community. He especially enjoys helping people achieve their dental goals using the best advances modern dentistry has to offer. Dr. Foy has surrounded himself with the best staff members who share his priority of giving everyone they meet a reason to smile!